Narayan Nagbali / Pitra Dosh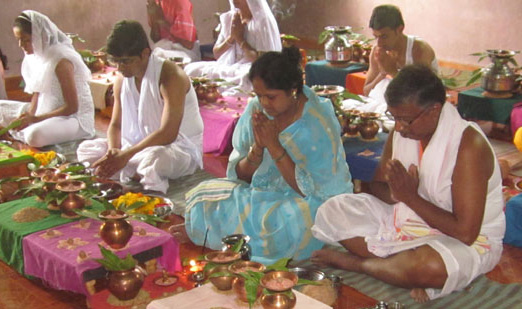 Narayan Nagbali / Tripindi Shraddha vidhi pooja is usually performed to get rid of Pitru Dosh. Performing this pooja during the period (5th to 19th September) of Pitrupaksha(पितृ पक्ष) is always helpful and benefits you. According to the Hindu calendar, Pitrupaksha starts immediately after the Ganesh festival and ends with the New moon day known as Sarvapitri amavasya. The Hindus offer homeage to their ancestors during pitrupaksha to get their blessings and help their soul attain the path of Heaven.
It gives good health, success in business and career and fulfils wishes. It is a three day ritual on a particular day and time (muhurta). On the first day, the devotees should take a holy bath in Kushavarta and resolve to give dashdaan (give ten things in charity). After offering prayers at the Trimbakeshwar temple, they go to the dharmashala at the confluence of rivers Godavari and Ahilya for performing Narayan Nagbali.
Narayanbali-Nagbali pooja is performed at Trimbakeshwar only. This pooja is performed in three days. This pooja needs a special dates to perform it. Some days are not suitable to perform this pooja. This pooja is performed for so many reasons. If one has suffering from illness, going through bad times, someone in family has killed Nag (cobra). Or one is having a problem to have a kids or just you have everything and you want to perform some religious pooja to have everything.